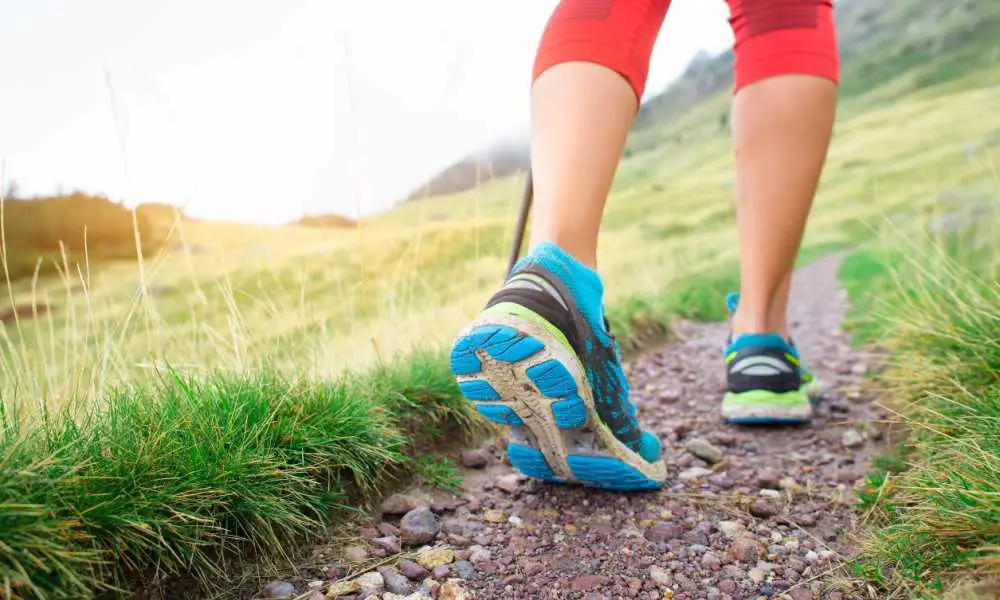 What We Like
Protective rubber toe cap
EVA footbed
Closed-cell foam tongue
What We Don't Like
Expensive
Poor-quality laces
Runs small
It's been over a decade since the original Merrell Moab hiking boots were released. In that time, the boots have attained legendary status among hiking enthusiasts because of their top-notch quality design. Years later, the company has finally released the women's Moab 2 Waterproof Hiking Boot.
But is the Moab 2 worthy of the title of "Mother of all Boots"? That's what we're going to be looking at today with this in-depth review.
Does the Moab 2 adhere to what made the original such an outstanding hiking boot while offering enough new features to warrant the upgrade? Or does it fall victim to the age old adage of "one step forward, two steps back"? Read on to find out!
CHECK LATEST PRICE ON AMAZON.COM
Merrell Women's Moab 2 Waterproof Hiking Boot Review
From the first moment you put the Moab 2 hiking boots on, you'll see exactly where the name comes from. The boots are completely waterproof, with durable suede leather, an incredibly comfortable supportive footbed, a protective rubber toe cap, and Vibram traction all combined in one amazingly durable package.
The boot comes in a surprisingly varied amount of color options. It's also offered in a few different design options, such as a low-top shoe or mid-height boot. And while we're focusing on their waterproof hiking boot for this review (of which there are two types), there's also a non-waterproof option if you'll strictly be hiking in a more arid region.
Who are These Hiking Boots For?
The Merrell Women's Moab 2 Waterproof Hiking Boots are made for women who love to get outdoors and live a healthy, active lifestyle. They offer everything that made the original Moab product such a fantastic hiking boot – a lightweight option that's comfortable, built to last, and extremely affordable – while adding a few much appreciated new features, like the silicone band that runs along the side of the shoes to provide increased stability.
The Moab 2 is particularly great for day hikers looking for an excellent waterproof hiking boot. As we mentioned above, it comes in two different waterproof options – Gore-Tex or M-Select. We prefer the M-Select as it's a bit less expensive while still working incredibly well.
Overview of Features
You would think that a hiking boot named the Moab 2 would be fully equipped with features that won't disappoint. The good news is that's 100% accurate and these boots do an outstanding job of carrying on the legendary "Moab" name.
Features
Here are just a few of the features that you'll be getting with these boots:
Merrell air cushion in the heel absorbs shock and provides added stability – the insole is also removable – the boots are incredibly comfortable
Suede leather design with a breathable mesh tongue and protective rubber toe cap.
Two waterproof options – Gore-Tex and M-Selection – are available along with a non-waterproof version.
Alternative Options
There's only one complaint that we could make about the Merrell Moab 2, and that's the fact that it doesn't provide the best traction when hiking on rocky or muddy surfaces. It's only a minor complaint from us, but if it's enough to be a deal-breaker for you, then we're more than happy to provide recommendations for some great alternatives.
The Columbia Women's Newton Ridge Plus Waterproof Amped Hiking Boot is another great boot that's available at a similar price to the Moab 2. It's another incredibly comfortable hiking boot that's built to last. We were blown away by how well it provided traction on even the most challenging of surfaces when we put it to the test.
As far as budget options go, you can't go wrong with the Hi-Tec Women's Bandera Mid-Rise Waterproof Hiking Boot. It's one of our favorite hiking boots for under $50, and it definitely offers a lot of bang for your buck.
On the opposite side of things, if you've set aside a slightly large budget for your hiking gear, then we would strongly recommend the Zamberlan Women's 996 Vioz GT Hiking Boot. It's more expensive than everything else we've mentioned, but as with many things in life, you certainly get what you pay for with it. If you don't mind spending up to $300 for hiking boots, these are what we would recommend in a heartbeat.
Conclusion
Overall, the Merrell Women's Moab 2 Waterproof hiking boots are a more than worthy successor to the legendary Moab line. There's an old saying that goes "if it ain't broke, don't fix it," and Merrell certainly took that to heart when designing these boots.
The Moab 2 keeps everything that made the Moab great and builds on it just enough with new features like the added stability offered by the silicon band found on the sides of the boot. And best of all, you can rest assured knowing that if you go with the Moab 2, you'll own a pair of high-quality hiking boots that are built to last for the long haul.