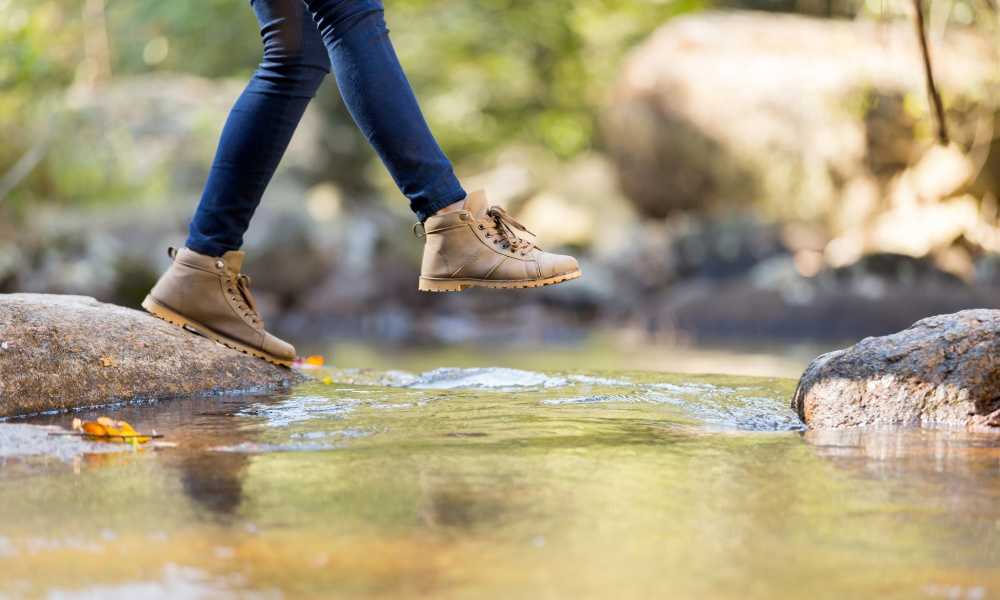 What We Like
Breathable mesh tongue
Omni-Grip rubber sole
Affordable
What We Don't Like
Odd sizing
Not suitable for warm climates
One of the most well-known names in outdoor sportswear is Columbia. Today we're going to be taking a closer look at one of their premiere women's hiking boots, the Newton Ridge Plus Waterproof Amped hiking boots.This classic-style boot is perfect for all of the ladies out there who love to get out and explore the great outdoors. Whether you're just going for a scenic stroll at your favorite lake or going for a more challenging expedition in harsher weather, you'll be able to do so in comfort and style with the Newton Ridge Plus Amped boots.There's quite a bit to talk about regarding these boots, so let's dive in.
CHECK LATEST PRICE ON AMAZON.COM
Columbia Women's Newton Ridge Plus Waterproof Amped Hiking Boot Review
One of the most consistently popular pair of hiking boots for women, the Newton Ridge Plus Amped boots are incredibly comfortable thanks to being made with a stylish combination of mesh and leather that has been made totally waterproof before being given a stylish suede finish.
The boots are lightweight yet extremely durable (as are most Columbia sportswear products). And while Columbia has recently revamped the product line and released the Newton Ridge Plus II, you still can't go wrong with the classic. These boots are perfect for outdoor enthusiasts who love to hike all year long, whether it's in rain, snow, or sunshine.
Who are These Hiking Boots For?
The women's Newton Ridge Plus Waterproof Amped hiking boots are designed for women who love to explore the great outdoors in style. More importantly, they're built to impress thanks their rugged outsoles that provide all the traction you'll need to navigate even the toughest surfaces. Slippery surface standing in your way? Not if you're wearing these boots, it's not.
All of Columbia's hiking shoes and boots also have a waterproof seam-sealed construction that will let you cross through streams and puddles with ease. On top of that, they're built to last as well, with a lightweight design that's still incredibly durable and breathable, letting you hike for longer in complete comfort.
Overview of Features
Wondering what makes these hiking boots one of our favorite selections for women? Here's just a brief overview of some of the fantastic features that Columbia has built into these boots:
Full grain leather and suede design with a scratch rubber heel, mesh tongue, and outdoor hardware all combine to make an incredibly lightweight yet durable hiking boot
Seam-sealed bootie construction keeps them completely waterproof
Supportive Techlite midsole provides a ton of cushioning while the Omni-Grip rubber outsoles are built to last for miles over a wide variety of rugged terrain
Lace-up closure provides a secure, adjustable fit
Alternative Options
While we're definitely a huge fan of these hiking boots, we also realize they may not be for everyone. With that in mind, we're happy to provide a few recommendations for some alternative hiking boots that may be of interest to you.
If you're interested in a more budget-friendly women's hiking boot, then you really can't go wrong with the Hi-Tec Women's Bandera Mid-Rise Waterproof Hiking Boots. They're a fantastic entry-level option for anyone out there who may just be getting started with hiking and wants to test the waters a bit before diving right in with some more expensive products.
On the other hand, if you aren't concerned about cost, and you're only interested in owning a pair of hiking boots of the highest quality, then we can easily recommend the Zamberlan Women's 996 Vioz GT Hiking Boots. They're made of hydrobloc full-grain leather with an exclusive sole built by Vibram. This is one of top picks for hiking boots, as it seamlessly blends style, comfort, and durability into one amazing package.
Conclusion
While there's no denying the fact that there's certainly better options for hiking boots out there, we strongly believe that for the price, you can't go wrong with choosing the Newton Ridge Plus Waterproof Amped hiking boots. Columbia has a stellar reputation for their sportswear and it's exactly because they're constantly releasing outstanding products like these boots.
Whether you're a novice hiker looking to pick up your first pair of hiking boots or an experienced vet who can climb a mountain with your eyes closed, you'll find a lot to like with these boots. We especially liked the fact that it didn't take very long at all to break the boots in – they felt completely good to go after one single brief afternoon hike.
They offer everything that you could ask for in a high quality mid-range hiking boot – a comfortable lightweight design, waterproof and breathable finish, great rubber grip outsoles with a supportive midsole.
The truth is, if you're looking for a pair of hiking boots that offers much more, then you're going to be looking at spending significantly more money. For that reason alone, the Newton Ridge Plus Waterproof Amped boots are an easy recommendation for us to make.