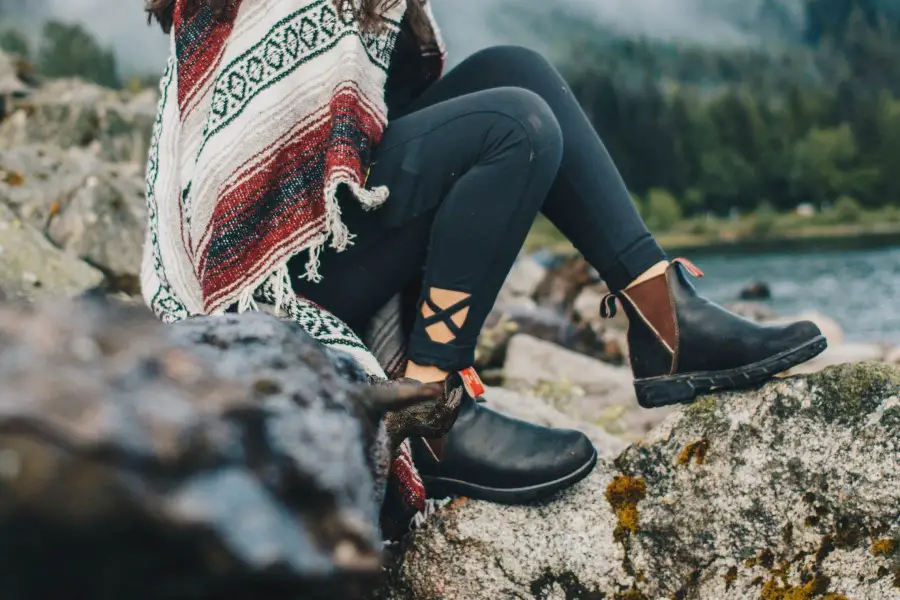 I'm glad you are here at RuggedFeet. Please don't hike in the shoes in the picture at the top! I reviewed women's hiking shoes to select the five best for 5 categories of getting out there. General hiking, aggressive hiking, summer hiking, waterproof hiking shoes, and the day hike champions.
If you are wondering whether you should go with shoes or boots the answer is usually shoes. For anything other than multi-day heavy packing shoes are proving themselves capable, comfortable and faster.
All of the options on this page are made by solid outdoor brands with years of experience. For a longer list of choices, checkout the Amazon Best Sellers page.
Some of these shoes require break in periods. Keep that in mind if you are ordering shoes shipping directly to your destination. (A good strategy if you are backpacking on the beach in Thailand but on your way to Patagonia next.)
Best Women's Shoes for Hiking – Overall
Merrell Moab 2 Ventilator hiking shoes are extremely popular for good reasons. These are my choice for best overall women's hiking shoe because they balance quality and performance with price.
Merrell Moab 2 Ventilator Women's Hiking Shoes
$100
Great Price
Ventilated to breathe
Excellent Traction
Wide Feet Available
Low Water Resistance
Sizes Run a Bit Small
Soft Sole for Grip can Wear Down
Review: Women's Merrell Moab 2 Ventilator Hiking Shoes
It's not surprising to see a Merrell shoe be our selection for best overall. Merrell has been one of the best brands for hiking boots and shoes for years.
The Moab 2 Ventilator is a really great pair of shoes. Millions of these have been sold for good reason. These truly are some of the best women's hiking shoes you can get even though the price is lower than a lot of other options.
Some details:
These shoes are very comfortable while affording the ruggedness you expect from an outdoor-oriented shoe.
You don't need to break Moab's in before heading out on the trail. You can take these straight out of the box at the trailhead.
They are very breathable and should keep your feet from over-heating like waterproof boots tend to. That stated, the vents are the opposite of waterproof so if you step in a puddle you will find out right away.
Wide Feet sizes are available which isn't always the case in women's styles.
Sizing runs a tad small. Call it a quarter size small so if you are between sizes or want a little extra space for big socks bump up a half-size.
These shoes are middle of the road when it comes to weight. Probably not great for trail running but otherwise you'll be just fine in these.
They have a nice balance between sole rigidity and flex. The toe box has enough bend behind it so that you can maintain good surface contact and traction when going up a slab.
There is a rubber toe cap to help the shoes hold up over lots of miles without rubbing a hole in the end.
The sole is on the soft side which is great for traction on rough surfaces harder soles might slip on. However, due to the softness, if you use these as "daily wear" shoes you will probably wear them down quicker than some other shoes.
Best Women's Shoes for Challenging Hikes
The Women's Salomon X Ultra's are my selection for the best trail hiking shoes for challenging hikes. They are waterproof for small stream crossings and excel at steep downslopes.
Salomon Women's X Ultra 3 GTX Trail Shoes
$105 to $140
Downslope Traction
Waterproof
Quicklace Shoestrings
Lightweight
Higher Price
Non-Traditional Laces?
Narrow Fit
Review: Salomon Women's X Ultra 3 GTX Trail Shoes
Salomon is a great brand for trail shoes. These hiking shoes complement their trail running shoes to round out what they offer to women for outdoor activities.
These shoes are the best for more challenging hiking because they are waterproof in a way that keeps them light and also are especially good at steeper downsloped terrain. Most challenging hikes involve aggressive elevation changes and these shoes will help keep you planted!
Some details:
There are two types of breakin-in that happen with these shoes:

A reduction in rigidity of the sole that will make them more bendy to help with smearing and up-slopes.
Compression of the in-sole to form to your unique foot shape and form.

After breaking in these shoes are still a bit rigid on the bottom. That is good for supporting you on rocky, uneven terrain. It's a bit trickier if you are trying to smear on a slab however.
These shoes run narrow and don't offer an option for wide feet. If you have narrow feet, that is great! It can be hard to get a good fit for people with narrow feet. Otherwise, be a little careful if you pick these.
The cushioning in the sole of these shoes is heel-strike oriented. That isn't to say that your toe box is banging on the ground but there isn't as comfy a landing there.
The Quicklace system is different than regular shoe strings. They are a thin string that slides easily between the eyelets on the shoe. The advantage is that the shoes more quickly adjust and evenly distribute tension evenly across the top of the foot. The disadvantage is the same thing. Some people use special lacing patterns and tension to manage fit for their foot. You have to decide if the Quicklace system would be good for you or bad.
There is a "pocket" at the top of the tongue to tuck the extra string from the Quicklace system into. It is easy to miss if you don't know to look for it.
Salomon chooses some dorky corporate-speak to say their shoes are good on downslopes. "Descent Control" technology (groan) works though. Big lugs on the tread hold on tight to keep you from slipping.
The Ultra's are lighter than average which is nice.
Waterproofing is excellent. One note is that the shoes repel water on the outside rather than simply preventing water from passing into the sock. The difference is that the shoes don't absorb water and get heavier in wet conditions.
The durability of these shoes is very good. There have been some consumer reported issues with the Quicklace system but that does seem to be a rare issue.
They claim that these shoes have been specifically formed to fit women's feet. I'm not sure there is actually a meaningful structural difference between men and women's feet other than average size. However, they do make the claim so take it for what it is worth.
Best Waterproof Women's Hiking Shoes
The Women's Keen Targhee III hiking shoe is the choice for best waterproof hiking shoe. Keen has an excellent reputation for making durable, good traction shoes and they keep that streaking going with the 3's.
Keen Targhee III Women's Hiking Shoe
$100 to $120
Waterproof Quality
Cost
Toe Box Space
Super Durable
Can Be Hot
Water In Leather Dry's Slowly
Mid Range Weight
Can Be Wide for Narrow Feet
Review: Women's Keen Targhee III
Keen's Targhee III's are great waterproof hiking shoes. They are middle range for cost but are top line when it comes to waterproofing, traction and comfort.
This is why they are my choice for the best waterproof hiking shoes for women. Shoe manufacturers are paying appropriate attention to fit and quality for women now whereas in the past they were more male focused. Progress!
Some details:
These come out of the box requiring no break-in period before you can take them out on the trail. Common sense dictates that you try them out a little before embarking on a long journey just like you would any other gear. You could risk it though if you are feeling wild. These are ready!
They are made using "environmentally preferred leather" which is a nice touch for an outdoor company.
Keen's are well known for being highly durable. The Targhee's get extra rubber around the toe to further protect a part of the shoe that otherwise might show wear more quickly.
These run a bit wider in the toe box and as a result there is a bit more shoe weight. However, you'll appreciate the extra wiggle room.
The waterproofing is excellent. The leather can soak up water outside of the membrane that protects your foot. It won't affect your traction but can add a little weight when wet and take a little extra time to dry out completely compared to synthetic shoes.
You'll have excellent grip in these. They are great on rough granite, slick rock slabs in moab, or the dust and gravel of Yosemite's popular trails. The one scenario to keep an eye on is wet slab. The rubber soles can struggle to find purchase in that one case.
Best Women's Hiking Shoes for Summer
I chose the Oboz Sawtooth as the best summer hiking shoe for women because it is an extremely versatile hiking shoe in it's vented version. It has great traction on all types of ground and enough foot support to carry a pack with.
Women's Oboz Sawtooth II Low Hiking Shoe
About $110
Waterproof or Vented Models
Special Insoles
Oboz Will Plant a Tree
Strong Heel Support
A Little Heavy
Leather Can Soak Up Water
Ankle Can Be High For Some
Review: Oboz Women's Sawtooth II Low
Oboz is a cool outdoor shoe company that plants a tree for each pair sold. They also do some quirky things like imprint a topographical map on the sole of their hiking shoes. For the Sawtooth's it is of the Sawtooth mountain range by Sun Valley Idaho.
Oboz doesn't have the brand recognition of Merrell or Keen but they will. Their popularity continues to grow due to their high quality for the price.
Some details:
Ventilated to keep your feet cool. There is an internal liner behind the vents to help reduce dust and grit that otherwise would get into your socks.
Oboz does some cool things with their shoes. For each pair sold they plant a tree and they mold a topographical map into the bottom of their models. Since these shoes are called "Sawtooth" the topo map on the sole is of the Sawtooth mountains by Sun Valley, Idaho.
Great traction and non-slip performance on both wet and dry rock surfaces.
These come with custom insoles that provide excellent arch and heel support. The extra quality of fit means the shoes can be less soft underfoot while still being very comfortable.
There is a rubber heel cup that helps to maintain the support and fit of the heel over a lot of use. It can also help keep you from pronating. (Pronating is when your heel tips inward.)
Due to better than usual support levels you can carry a decent pack in these and be fine.
Very durable shoes. These will last longer than you would expect even under rough conditions.
Wide feet sizes are available for sale.
These shoes are a bit heavier in exchange for the extra support. It is worth the trade-off.
The leather on the outside of the shoe can soak up water and add another ounce or so. If you know you are going to spend a lot of time in wet conditions you probably should pick a pair of waterproof shoes instead.
The sides of the shoes come up the sides of the ankles a little higher than other shoes. For some folks that could rub on the bottom of the ankle. Most folks won't have an issue but if you have in the past with other manufacturers be a little careful before ordering.
Best Women's Hiking Shoes for Day Hikes
The LA Sportiva Spire GTX hiking shoes are my choice as the best for day hikes. These look very similar to a trail running shoe but actually have the characteristics of a hiker. It is great for grip, comfort, fit and weight. It is weaker in the area of support but as a day hike shoe you won't be carrying a pack so I gave them a pass in that area.
These are also my recommendation for the best hiking shoes for hiking and running.
Women's LA Sportiva Spire GTX Hiking Shoe
About $190
Light Enough for Trail Running
Taller Wedge Helps Ascend
Waterproof to Ankle
Style Works for Social Life
Only Standard Sizes
High End of Price Range
Possible Ankle Rub
Review: La Sportiva Women's Spire GTX
Italian footwear company La Sportiva has been making shoes since 1928. They are good at style and quality by now.
Their Women's Spire GTX shoes are my choice for the best hiking shoes for day hikes. These hybrids are like a cross between a hiking shoe trail runner. Light enough to run but stable enough to hike and pack.
Some details:
The mesh that is the first layer of defense is tough and holds up better than you would think against rocks, sticks, and dog toe-nails.
GORE-TEX® SURROUND® tech to attempt to vent moisture while still being waterproof. It works OK.
The soles are non-marking to you can use these for indoor training without marking up gym floors.
Standard laces so if you hate quick draw systems these are for you.
The support and stability is good and fine for day packs. Consider something more robust for multi-day heavy packs. The synthetic materials provide more/better support than some of those leather snobs out there would expect.
Sized for wide feet aren't specifically available. However, these shoes run a little wide generally. If you are average to a little wide take a look at these. If your feet are on the skinny side you might have trouble feeling solid.
The sole comes out of the box fairly stiff. You'll want to spend some time breaking them in a little before your first challenging test.
These weigh less than average and are a good choice for fast packing.
There is some extra padding on the tongue which is nice if you have trouble with the top of your foot creating pressure points against laces in other shoes.
If your ankles ride low relative to the bottom of your foot you may find that the sides of the shoe come up a little higher than you like.
The price on these is higher than average. Given the number of hours you'll be wearing them however it is a good choice. Happy feet in the wild make for happy times!