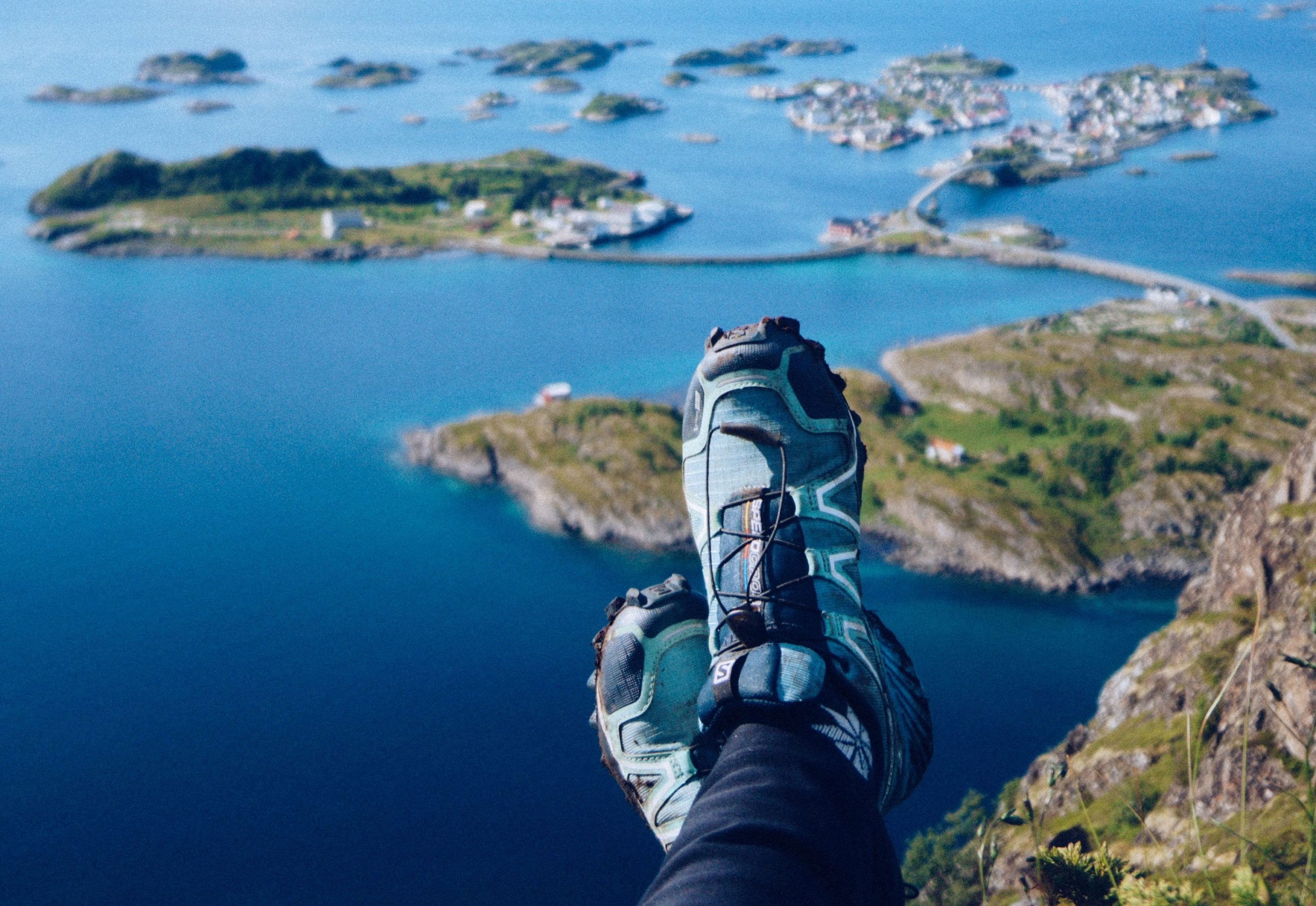 Welcome to RuggedFeet! I'm glad you are here. I reviewed current hiking shoes to find the the best ones for general hiking, aggressive hiking, summer hiking, waterproof hiking shoes, and the best kicks for day hikes.
There is a debate regarding hiking shoes vs hiking boots but it boils down to hiking shoes work well when pack weight is limited. If you are going heavy you'll want a full hiking boot with extra ankle support. Otherwise, go with lightweight hiking shoes and you'll have a better time.
The 5 great options on this page are all made by legitimate outdoor gear brands. If you want a longer list of choices, a good place to look is on the Amazon Best Sellers page for hiking shoes.
Some of these require breaking in while some don't. Keep that in mind when ordering if you need to be ready as soon as the shoes arrive to get out and go.
I also wrote a post to help you evaluate how tight your hiking shoes should be when you try them on.
Best Shoes for Hiking – Overall
The Merrell Moab 2 Vented hiking shoe is the best overall hiking shoe because it balances excellent foot support while being lightweight and airy.
Merrell Moab 2 Vent Hiking Shoe
$75 to $120
Low Cost
Ventilated
Good grip on rock
Many color options
Not waterproof
Foot support soft for rough rocks
Laces tend to untie themselves
Review: Merrell Moab 2 Vented Hiking Shoes
Merrell is one one of the best brands of hiking shoes with a deep history of making durable long-lasting shoes and boots. You will hike the tread off these shoes long before they start to come apart.
These trail shoes are the best all around for hiking because of the balance between price, quality and comfort. These are great budget hiking shoes.
Some details:
You don't need to break in these hiking shoes before using them. They can go straight out of the box, onto your feet, and out the door to the trail.
The laces are the round kind not the flat laces typically seen on shoes. That's good because they don't snag burrs as much. However they will untie quickly if you don't double-knot them.
Ventilated! That's great because it helps keep your feet cooler while hiking. Bear in mind that the vents will allow water to soak into your socks if you walk through wet ground cover in the morning. On the upside, they will dry more quickly in the sun because of the vents.
Cost: Nice that best all around hiking shoe is middle low in terms of budget.
The Grip: They have a reasonably soft sole so will grip well on slick rock, slabs and other textured hard surfaces. They are on the squishy side if you are looking for an edge to hold when bouldering or during light rock climbing.
Merrell has lots of colors to choose from and also extra wide sizes for people with wide feet.
A wide toe-box helps keep you feeling good by the end of the day. It's easier to avoid hot spots where your toes press up against each other.
Foot protection is very good. This shoe is closer to being a hiking boot than a trail running shoe on the spectrum so incorporates more foot protection at the expense of increased weight.
Best Shoes for Challenging Hikes
The Salomon X Ultra's are my selection for the best trail hiking shoes for challenging hikes. They are waterproof and rigid enough to get you over rough terrain and alpine scree approaches.
Salomon X Ultra 3 GTX Trail Hiking Shoes
$105 to $140
Quicklace System
Excellent Waterproofing
Downhill Traction
Lightweight
Quicklace System?
Upper Range for Cost
Waterproofing Can Be Hot
Review: Salomon X Ultra 3 GTX Trail Shoes
Like Merrell, Salomon has been making hiking boots and shoes for a long time. They have millions of trail miles across their customer history and it shows in the durability and features of their shoes.
These trail shoes are the best for more challenging hiking because of the extra foot support for less well-maintained trails as well as their waterproofing and grip. In particular the downhill assistive tread under the heal is a nice touch for high-elevation change routes.
Some details:
When these come out of the box they are more rigid then they will be once you have broken them in. Make sure you don't go straight from box to a hard-core 15 miler! Give them a hike or two to soften up and adapt to your feet.
These shoes have a "Quicklace" system. Some people like it a lot while others feel it gives them a loss of control over precision fitting based on lace up technique. The strings in the system will slide and even out tension much more quickly than regular laces. Don't be surprised if after tightening them up you quickly feel like you need to tighten the again to get the fit you want. It might take three rounds of that before it is what you want.
These shoes are very good at being waterproof. The waterproof membrane also attempts to allow moisture to escape from sweat but it isn't the same as a non-waterproof shoe. In cold weather you'll appreciate the extra insulation. In hot weather sweaty feet await and it will take longer to dry the hiking shoes out if you get them wet from the inside out.
The Salomon's are a bit higher in price but include some premium features like waterproofing and Quicklaces.
The Grip: Once they are broken in you'll have enough flex to smear successfully to hold onto even Moab Slick Rock. Edging for more aggressive climbing won't work well however. They also have some reverse-oriented grips on the back of the heel so when you are descending and have your weight on the back of your foot you should get a bit of extra non-slip help.
The shoes have a narrow toe box and run tight on the sides of your foot. There are wide versions available for sale but make sure you understand the return policy before you buy these if you have wide feet.
The foot protection is solid. There is a reinforced toe on the boot so if you are kicking footholds into dirt or snow you won't hate your life.
Durability: The reputation of Salomon as a brand is very good for durability. The Quicklace system introduces a new kind of failure point but I haven't heard of significant issues. If you have had problems with it please send me a note. I'd like to understand how concerned we should be about it.
Weight: Of all the hiking shoes I've looked at the Ultra 3's are lighter than most. It goes along with the tighter sides and smaller toe box. You wouldn't want to run a ton in these but these are closer to being a traditional trail running shoe than the Merrell Moab 2's reviewed above.
Best Waterproof Hiking Shoes
The Keen Targhee II hiking shoe is my selection for the best waterproof option. The Targhee has excellent structural support in case you are slipping to go with it's waterpoof status.
Keen Targhee II Hiking Shoe
$90 to $150
Cost
Waterproof
Foot protection
Quick Drying
Hard to Smear on Slabs
Foot support soft for scree
Swampy in hot weather
Review: Keen Targhee II
Keen is another excellent manufacturer brand for hiking boots and shoes. Anything you buy from them is going to be solid and dependable. These shoes are no exception.
These hiking shoes are my selection for the best waterproof option due to their good price, durability and effectiveness on surfaces that you would encounter in wet conditions.
Some details:
You'll want to break these shoes in before wearing them on long hikes. Keen has a system they call a Metatomical footbed. Yeah, it's a really dumb name. It works though! The sole will fit to your heel, forefoot and toes.
The sizing on these tend to run a little small. Go at least a half-size larger than you normally would when ordering.
The waterproofing on these shoes is very effective. The downside is to expect to have hot feet that stay swampy with sweat. The good news is that these trail shoes will dry out quickly if you take them off for a bit.
Cost: Normally these shoes are in the lower-cost range but can trend up for hard to find colors or extra wide feet. Generally speaking though these are excellent budget hiking shoes especially with waterproofing.
The Traction: The grip with these shoes is great. They will hold on very well on almost any surface you would reasonably expect them to. One note is that the sole is rigid so if you attempt to smear climbing up a slab it will be a struggle because you won't get the same kind of bottom surface contact you would with more flexible shoes.
That rigidity is great however when you are navigating scree or other rough trails. The sole is both rigid and tortion resistant so you get get a solid platform under you even when the trail isn't solid.
A wide toe-box which helps keep your toes happy and healthy.
Excellent foot protection around the toe box and from below. It will be very difficult for any poky thorns to pierce through these and get to you.
Another note on the rigidity of these shoes is don't plan on running. The weight is average so if you meet a bear you can do it but you will be clomping along like a robot heal-striker due to the rigidity of the sole.
The Keens come with a textured shoelace which holds well. Double-knot them anyway. Don't be a chump.
Last but not least due to the high quality of construction these hiking shoes will hold together long after they look all beat up on your feet.
Best Hiking Shoes for Summer
The Oboz Sawtooth II hiking shoe is my selection for the best hiking shoe for summer. The Sawtooth has excellent ventilation while maintaining structural support and traction even with a pack. It is the most versatile well-ventilated shoe I can find.
Oboz Sawtooth II Low Hiking Shoe
About $110
Ventilation
Plants a tree
Structural Support
Premium Insoles
Not Waterproof
Stiffer Than Some Others
Toe Box is Average
Review: Oboz Sawtooth Low
Oboz is a hiking boot and shoe brand that isn't as well known but produces great stuff. They are based out of Bozeman Montana so their gear is tailored especially well to the alpine granite of that region.
These are my selection for the best hiking shoes for summer because they are designed for coolness without giving up performance.
Some details:
Well-ventilated to allow airflow around your foot as you hike. These have a liner behind the vents to keep dirt and other tiny pokies out of your socks. The liner does not convey any waterproofing.
The sizing on these run normal so order your usual size. Oboz also makes wide variants for hikers with wide feet.
Especially good arch support in these hiking shoes. There is a custom insole created by Oboz that they include and call O Fit Insoles. Most boots and shoes you have to buy that kind of insole separately.
Cost: The price is on the lower end of the range which is always nice!
The Traction: The grip in the Sawtooth's is solid and reliable. You should be good to go on slab, rough rock, and downhill slopes.
These are stiffer than the Moab's featured above. Whether that comes down to positive or negative is really a personal preference.
The toe-box is average which is fine for most people. (By definition I suppose.) If you need more space for your toes look at that Moab at the top .
The premium insoles and design around the foot for support in the Sawtooth's is good enough to carry a pack for light summer camping.
The shoe sits below the ankle which limits ankle support compared to a full hiking boot. However, Oboz has done what they can in the way the shoe cradles the lower ankle below the bone.
Oboz plants a tree for each pair sold! Every little bit helps right?
Best Hiking Shoes for Day Hikes
The LA Sportiva Spire GTX hiking shoes are my choice as the best for day hikes. These look very similar to a trail running shoe but actually have the characteristics of a hiker. It is great for grip, comfort, fit and weight. It is weaker in the area of support but as a day hike shoe you won't be carrying a pack so I gave them a pass in that area.
These are also my recommendation for the best hiking shoes for hiking and running.
LA Sportiva Spire GTX Hiking Shoe
About $190
Could be Used to Run
Waterproof All the Way Up
High Heel Helps Ascending Slabs
Styling for After Hike Dinners
Higher Priced
No Wide Sizes Available
Not Great For a Heavy Pack
Review: La Sportiva Spire GTX
La Sportiva is an Italian outdoor shoe company that makes anything you need to put on your feet to handle the Alps. Turns out they work everywhere else too!
Their Spire GTX shoes are my selection for the best hiking shoes for day hikes because they are a great hybrid between a trail runner and a hiking shoe. You can move fast while being protected all day.
Some details:
These come sized in European sizes but Amazon has a conversion table right on site to make it easy. Also, European sizes are more detailed than US so you can get more precise to your foot size.
Other than being European, sizing on these run normal so order your usual size. La Sportiva doesn't have extra wide sizes unfortunately though so if you have wide feet you'll need to choose another brand.
The waterproofing on these shoes is excellent. They are waterpoof up to the opening for your foot at the top. Some shoes leak around the tongue but these do not.
Cost: The price is on the higher end of the range but is likely worth it given the number of miles you will put on them.
The Grip: Traction is no problem with the Spires. The Alps are no joke so La Sportiva knows what they are doing when they make soles that work and hold!
The toe protection is pretty good but not as hard-core as some of the other hiking shoes I've reviewed. That is a trade-off made for weight savings and comfort.
The toe-box is average width and length.
These shoes are enough of a hybrid that you could wear them to trail run comfortably. Maybe not for a full-on ultra marathon but a descent run isn't out of the question.
The shoe laces are a bit flimsy. You might want to replace with whatever your favorites are or maybe just throw an extra pair in your day pack just in case.
These look less like hiking shoes than most others but don't let that fool you. They have the strength, sole rigidity and traction to keep up with any of the other shoes on this list.