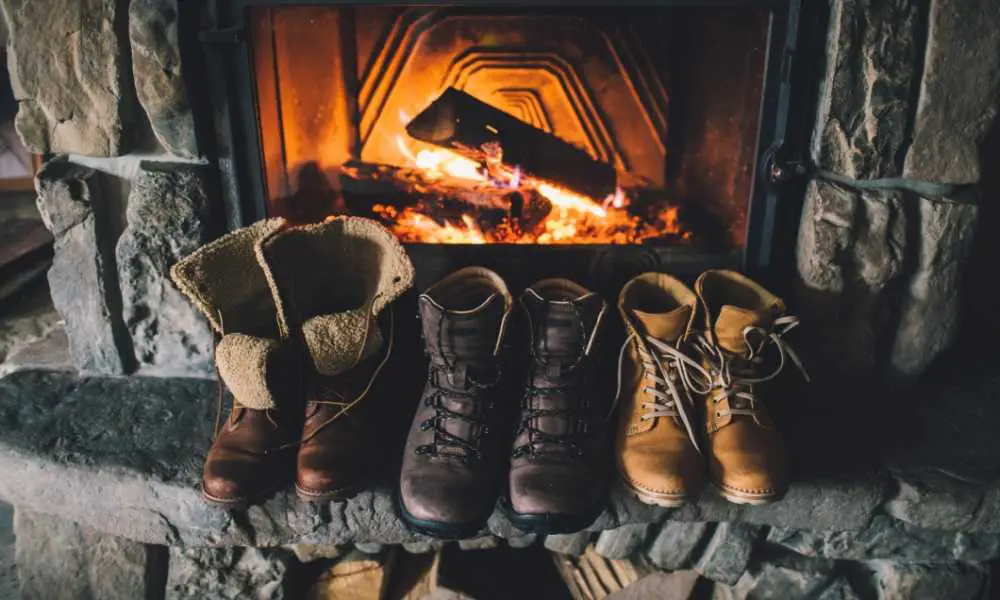 Given that they're intended to be worn by brave explorers traversing the great outdoors, you'd think that all hiking boots would be waterproof. In reality, however, there are a startling number of hiking boots on the market which boast no waterproofing and many that do are so unimpressive that they are barely fit for wear during a sun shower.
To guide you away from such heartachingly unimpressive boots, we have prepared this brief yet comprehensive look at five of the best waterproof hiking boots available right now.
Contenders
Columbia Women's Newton Ridge
Merrell Men's Moab 2 Mid Waterproof Hiking Boot
Timberland Men's White Ledge Mid Waterproof Boot
Hi-Tec Men's Bandera Mid Waterproof Hiking Boot
Clorts Women's Hiker Leather GTX Waterproof Hiking Boot
Best Waterproof Hiking Boot Reviews
1. Columbia Newton Ridge Plus
Columbia has long been one of the leading manufacturers in the hiking boot game and its Newton Ridge Plus serves as a reminder of just why that is. With so much more going for it than its waterproofing, the Newton Ridge Plus is certainly worthy of your consideration.
Review
The Columbia Newton Ridge Plus promises an almost unsurpassed level of breathability, which it obtains through its mesh tongue. This mesh tongue also allows the wearer to achieve a closer and more secure fit. Fitted with a Techlite lightweight midsole, the Newton Ridge Plus boasts superior cushioning and ensures maximum comfort even when worn for long periods of time, so long-distance hikers should take note. Meanwhile, its Omni-Grip technology provides enhanced stability and works to keep the wearer upright even on the most treacherous of terrains.
While the Columbia Newton Ridge Plus does feature a mesh tongue for greater breathability, this tongue alone is not enough to protect the wearer from overheating in particularly warm climates. If you're searching for a pair of boots you can wear in both extreme cold and extreme warmth, these are not for you. It is also worth mentioning that the odd sizing of these boots – some say they run large, some say they run small – makes it a challenge to find the right size.
PROS
CONS
CHECK LATEST PRICE ON AMAZON.COM
2. Merrell Moab 2
The acronym from which the Moab 2 takes its name stands for "mother of all boots." While the validity of this title is certainly up for debate, there is no denying that the Merrell Moab 2 is one of the most impressive hiking boots on the market today.
Review
The Merrell Moab 2 boasts a Vibram TC5 outsole, which grants the wearer greater range of motion along with the confidence that their feet will be steady wherever they are placed. Within the shoe you will find an EVA midsole and footbed, which work together to provide optimal arch and heel support.
Meanwhile, a mesh lining ensures a constant flow of fresh air to the boot, allowing it to be worn for extended periods of time with minimal, if any, discomfort. With a protective rubber toe cap resting on the tip of the boot, the Merrell Moab 2 is safe for wear on particularly treacherous trails, where the hiker must be mindful of falling branches and rocks.
One of the major drawbacks of the Merrell Moab 2 comes in its price. Because this boot is so loaded with features and its manufacturer is so widely respected, it may well set you back upwards of $250.
PROS
CONS
CHECK LATEST PRICE ON AMAZON.COM
3. Timberland White Ledge
Timberland's boots have proven so popular in mainstream fashion that it is easy to forget they were originally intended for hiking. The brand's White Ledge offers what many consider to be the perfect blend of style and performance.
Review
With multidirectional traction lugs, the Timberland White Ledge can be worn on almost all surfaces with minimal risk of the wearer falling or slipping, while its gusseted tongue prevents debris from finding its way inside the shoe. Its dual-density EVA footbed provides optimal arch and heel support, but can be easily removed should the wearer wish to obtain a slightly looser fit.
Owing to Timberland's reputation, the brand's White Ledge may set you back a little more than you would like to spend, with many retailers asking for $150. While $150 isn't a whole lot when compared to the price tags of other boots on the market, it may be a bit much for a hiking novice to justify.
It is also important to remember that the Timberland White Ledge was not designed to be worn exclusively for hiking, which means it may fall down in some areas in which a purpose-built boot would excel. For that reason, it may be a wise idea to avoid wearing these boots when crossing particularly difficult terrains.
PROS
CONS
CHECK LATEST PRICE ON AMAZON.COM
4. Hi-Tec Bandera
Few brands are more synonymous with hiking boots than Hi-Tec, which is why it would be remiss of us not to include an offering from the manufacturer in this article. There are hundreds Hi-Tec boots to choose from, but today we want to focus solely on the Hi-Tec Bandera.
Review
The Hi-Tec Bandera comes fitted with a removable molded insole, which provides arch and heel support to eliminate the discomfort that typically accompanies long hikes. This support is furthered by the steel shank with which each boot comes fitted. Steel shanks are often favored by dedicated hikers as they are more powerful and more durable than their nylon alternatives.
Meanwhile, a traction rubber cup sole enhances stability and significantly increases the wearer's chances of making it across uneven terrain. It should also be pointed out that the Bandera, despite the reputation of its manufacturer, is one of the most affordable waterproof hiking boots available right now and sells for just under $100.00.
Complaints about the Hi-Tec Bandera are few and far between, but it is important to point out the drawbacks of a boot with a steel shank. While a steel shank certainly provides greater support than a nylon shank, it seriously limits the wearer's range of movement, so those who purchase the Bandera can expect to be somewhat restricted by the boot. Similarly, the Bandera is not a lightweight boot and will weigh you down more than some of the other options on this list.
PROS
CONS
CHECK LATEST PRICE ON AMAZON.COM
5. Clorts HKM-822B
While certainly not the most creatively named hiking boot in the world, the Clorts HKM-822B is not without its charms. Resistant to water and the single least expensive boot to appear in this article, the Clorts HKM-822B should be high on the list of any hiker whose primary aim is saving money.
Review
Despite its low price – this boot can be purchased for less than $60 – the Clorts HKM-822B boasts a plethora of noteworthy features. Among these features is its one-piece tongue, which allows the wearer to achieve a tighter fit while simultaneously working to prevent debris from entering the shoe. The Uneebtex membrane which protects the shoe from water also ensures a steady stream of fresh air, allowing the wearer's feet to breathe.
To ensure the wearer remains surefooted and upright throughout their hike, Clorts fitted the HKM-822B with a skid-proof and abrasion-resistant multidirectional traction rubber outsole. Similarly, an EVA midsole provides superior cushioning while an anatomically shaped footbed absorbs moisture.Perhaps as a direct consequence of its low price, there are a number of flaws which those who purchase the Clorts HKM-822B will have to endure. For example, this boot is completely unsuited for hiking in mountainous areas and those who have purchased it for such a purpose have reported having to turn back just a couple of feet into their hike for their own safety.Meanwhile, these boots have a tendency to run small. Those who consider purchasing them are advised to go not just half a size up from what they would normally wear, but one or two full sizes.
PROS
CONS
CHECK LATEST PRICE ON AMAZON.COM
FINAL VERDICT
Settling on a pair of shoes is never easy, but it becomes all the more difficult when you are searching for a pair that you can wear while hiking. If you are willing to spend a little extra cash to get a truly great boot that you can rely on in even the rainiest of climates, we suggest going with the Merrell Moab 2. For the $250 that you will likely have to spend on it, you will receive almost unparalleled protection of your foot and toes, along with constant comfort even during extended hikes, courtesy of its EVA midsole and footbed.
If you would rather keep costs down in your search for a waterproof hiking boot, we suggest going with the Bandera from Hi-Tec. Although not as cheap as its Merrell alternative, this boot will set you back less than $100 and will provide you with a superior level of support and stability owing to its steel shank, removable molded insole, and traction rubber cup sole.